Back to the list of rewards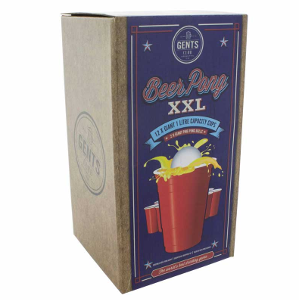 Your Last Chance
Beer Pong XXL
2,500 points
You need to be logged-in
Double the stakes with this man-sized version of a classic. Giant Beer Pong ups the fun and the mayhem of the world's favourite drinking game, ensuring you have a bigger and better time than ever before with friends or at parties.


Product details
Containing giant, 1 litre sized red beer cups, plus two oversized ping pong balls, all you need to provide is a flat surface on which to play, and of course the beer of your choice!

Beer pong is a much loved drinking game, played by students and party lovers in countless countries across the world. Easy to play, this set ensures you've got everything you need to get going, with the extra fun of double portions.

To play, simply set up 6 cups at each side of the table and fill with your choice of beer, lager or cider. Players then take turns to throw their ping pong ball into their opponents cup. If a player succeeds in landing in one of their opponents cups, the opponent must drink whatever is in the cup before continuing. Empty cups are then removed from the game. The winner is the first person to clear their opponents cups away.

Giant Beer Pong is a fun drinking game from Gentlemen's Club. The game is intended to be played by adults aged 18 and over. Please enjoy responsibly.